Tent site
Comfortable grassy tent sites for adventurers looking for a night under the stars.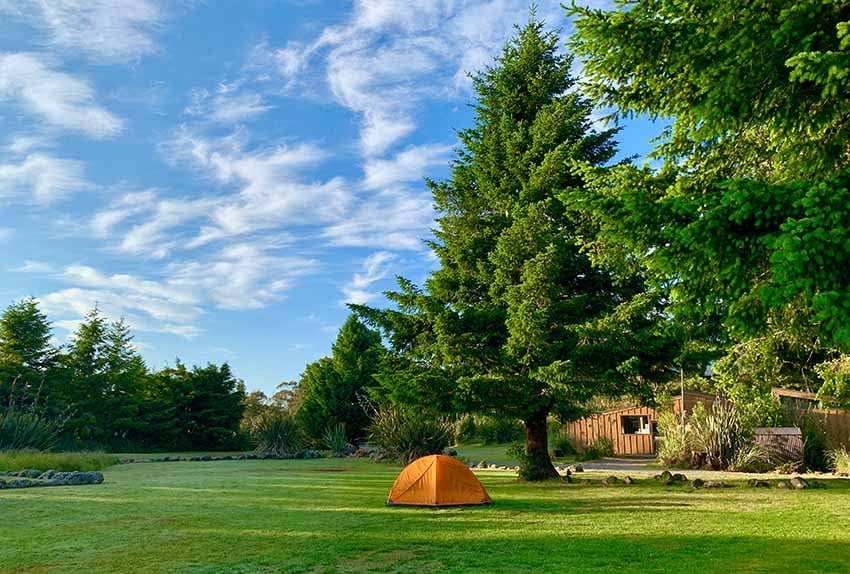 "As close to nature as you'll get. The comfortable grassy area is exclusively for tenting. Surrounded yourself with alpine meadows and the Tongariro National Park."
Tent sites
Grassy sites for stand alone tents
Tent sites
Rates from $20
From $20 per person per night
Rates from $20
Nature views
Views of surrounding nature
Nature views
Hot showers
Hot showers are included in night rate
Hot showers
Basic camp kitchen
Shared kitchen with hot plates, microwave, toasters and kettles
Basic camp kitchen
Basic dinning area
Indoor shared eating and relaxing area
Basic dinning area
All day sun
All sites have sun on fine days
All day sun
Guest laundry
Guest laundry near reception
Guest laundry
View of volcanoes
A spectacular panorama of volcanoes from property
View of volcanoes
Park-like setting
10 acres of park-like grounds with plenty of trees and grass
Park-like setting
Don't take our word for it...
Read what our wonderful guests say about the tent sites
"... was my home, by way of a tent for a week - was sad to leave. Very friendly, helpful & knowledgeable staff (good advice regarding weather & walks); Would go back again🙂 "
"...the best location if you plan to do the Tongariro Crossing... I stayed here solo in the tent... the facilities are excellent, very clean well maintained... Overall this place is very good."
"Our experience here was great, ...The facilities were clean and spacious, we survived the cold. The lady at the front desk was very good to us... All around, an excellent trip."