Chalet studio
A comfortable, stylish chalet for the discerning adventurers who wish for some luxury and a superior night's sleep.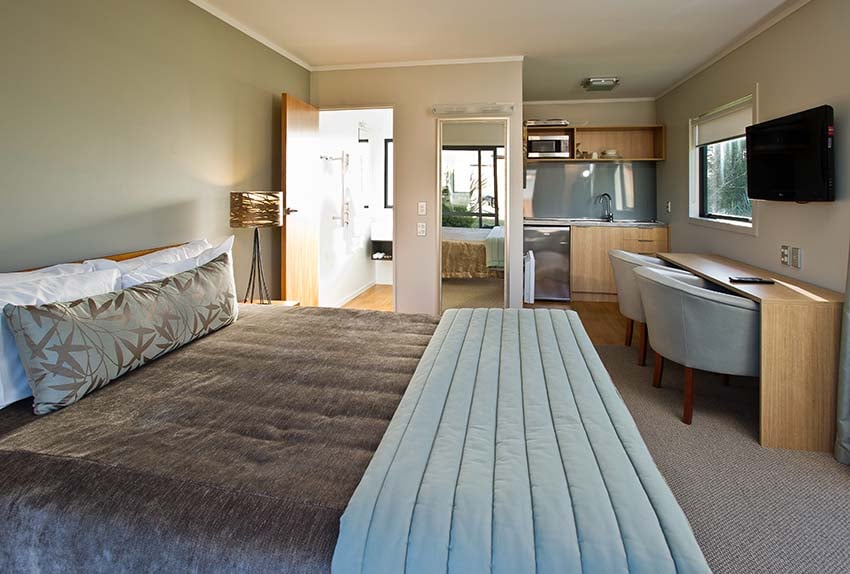 "Comfortable and stylish with colours and natural fibres that match the rustic earth tones that define the World Heritage Park. A warm inviting space with custom-crafted furniture and joinery. Rest easy in a deluxe bed before your day of adventure."
Sleeps 2
Sleeps 2 people only
Sleeps 2
Rates from $165
Special rates are from $165 for 2 people
Rates from $165
1 x Queen bed
Comfortable quality bed
1 x Queen bed
Mountain views
Views of volcanoes from large opening windows
Mountain views
All bed linen provided
All bedding including warm blankets and duvets provided
All bed linen provided
Kitchenette
With fridge freezer, microwave and hotplates
Kitchenette
Cutlery & crockery
Pots, pans and microwave containers
Cutlery & crockery
Toaster & hot water jug
Tea and coffee provided with UHT milk
Toaster & hot water jug
Private bathroom
With shower, hand basin and toilet
Private bathroom
Bathroom linen provided
Towels, face clothes and bath matt
Bathroom linen provided
Modern electric heating
Heater in main living area
Modern electric heating
LCD TV
With FreeView, DVD and clock radio
LCD TV
Daily servicing
Contact us if you need anything during contactless operations
Daily servicing
Duplex Chalet
Private, with parking outside. Approx 20 square metres
Duplex Chalet
Don't take our word for it...
Read what our wonderful guests say about the chalets
"Stayed a couple of nights in one of the Chalets. Exceptionally clean and very warm 'n' cosy inside!! We were fortunate as we heard a Kiwi sqealing on our second night there. Amazing!!"
"The chalet was well set up and very comfortable - the facilities in the kitchen well thought out which was appreciated (containers for storage etc). Great stay all round - thanks."
"What a wonderful getaway! ... the chalet was absolutely delightful. A cozy, clean, modern cottage with beautiful views of the mountains. ... highly recommend the chalets! "